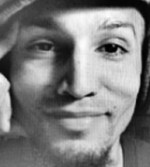 I am a California native with a penchant for fine art, Harleys, and strong coffee.  My career includes ten years of experience as a content-creator for broadcast television, documentary film, and corporate video.  My stock in trade is versatility.  I thrive in production environments and find equal (if not greater) comfort in the edit suite.  I love the craft of storytelling through motion pictures.   For me it is the perfect synthesis of language, music, and photography.  Sharing my passion for this work and adapting to ever-changing sweeps in technology keeps me on my toes and excited about my craft.
KEY SKILLS & SERVICES:
Creative Editorial – Avid Media Composer and Adobe Premiere Pro
Motion Graphics – Adobe After Effects, Photoshop, and Illustrator
DVD Authoring – Adobe Encore and DVD Studio Pro
Video Encoding – Compressor, QuickTime Pro, Adobe Media Encoder
Color Correction for broadcast and web
Camera operator- Canon C-100, Sony a7s, and Canon 5D
Excellent communication skills
Ability to work efficiently under pressure
RATES: 
My rates are competitive and negotiable.  Please contact me for a quote.